If you have found this page then you are probably wondering all about swapping at Jamboree. Swapping badges and other items are a staple of World Scout Jamborees, more so than any other camp or local jamboree that you might have been on.

Swapping usually involves trading the following items (but is not limited to)
Badges (Jamboree Branded i.e. unit badge, uk contingent badge, UK fun badges)
Scarfs / Neckers (UK Contingent, unit necker)
Pin badges
Woggles (UK Contingent branded, handmade)
Wristbands
Uniforms
Bags (Holdall/Day bag)
T-Shirts (Jamboree branded)
Water bottles (UK Contingent)
Badges / Scarfs (Non-jamboree related – Still tradable, just less popular, i.e. district badges, activity badges, your local group scarf)
UK stuff (Things with a Union Jack or England flag on. Usually cheaply attainable when football matches are on. Not as popular as jamboree things, but still tradeable)
How much stuff should I bring?
This is a bit more of a personal question. How much do you want to bring home? You can spend a lot of your free time trading, or you could spend it in other ways with all your new friends. Some people will swap the odd item when you meet people queuing in lines, others will take up a seat/table in the jamboree swapping areas and trade for several hours. So anything from a small handful of badges to a larger pack of badges/spare scarfs. IST generally find themselves having more swap time in the evenings than participants that have a super fun-packed schedule of activities.
It is recommended to take a variety of badges if you are able to. Your main staples for trading are usually your Unit badge and your UK Contingent badge, along with your county jamboree badge if you have one (Kent contingent badge). The UK also sells a small variety of "fun" badges which are also tradeable. Having a variety allows you to trade multiple badges with the same person. You will sometimes find badges from other countries can form part of a set, so having several different badges can make it easier to collect these.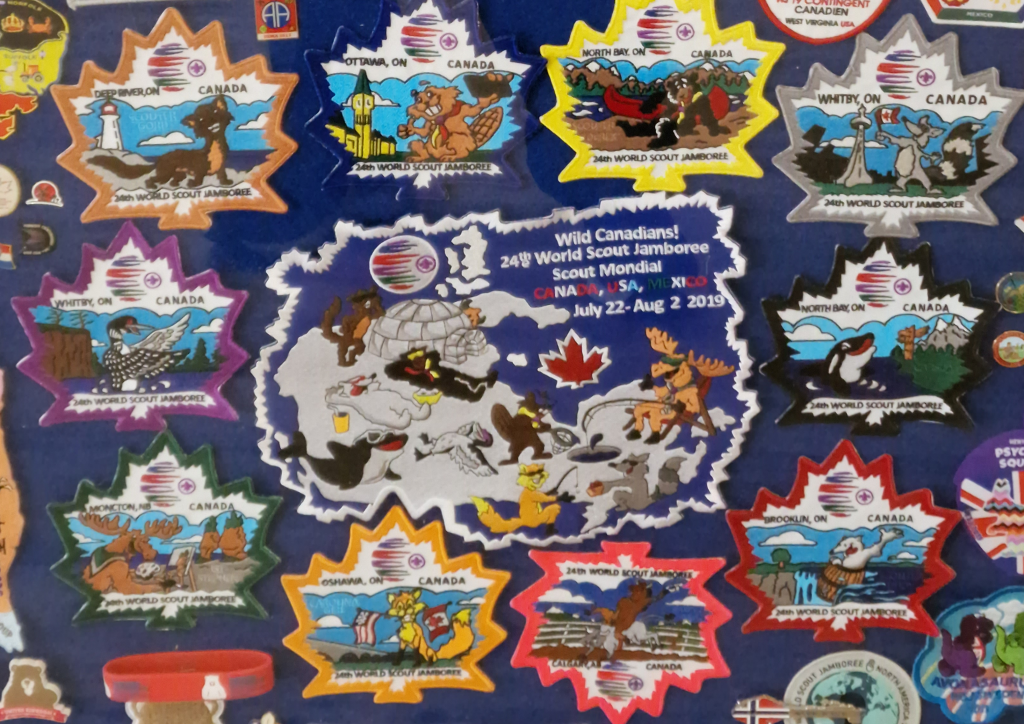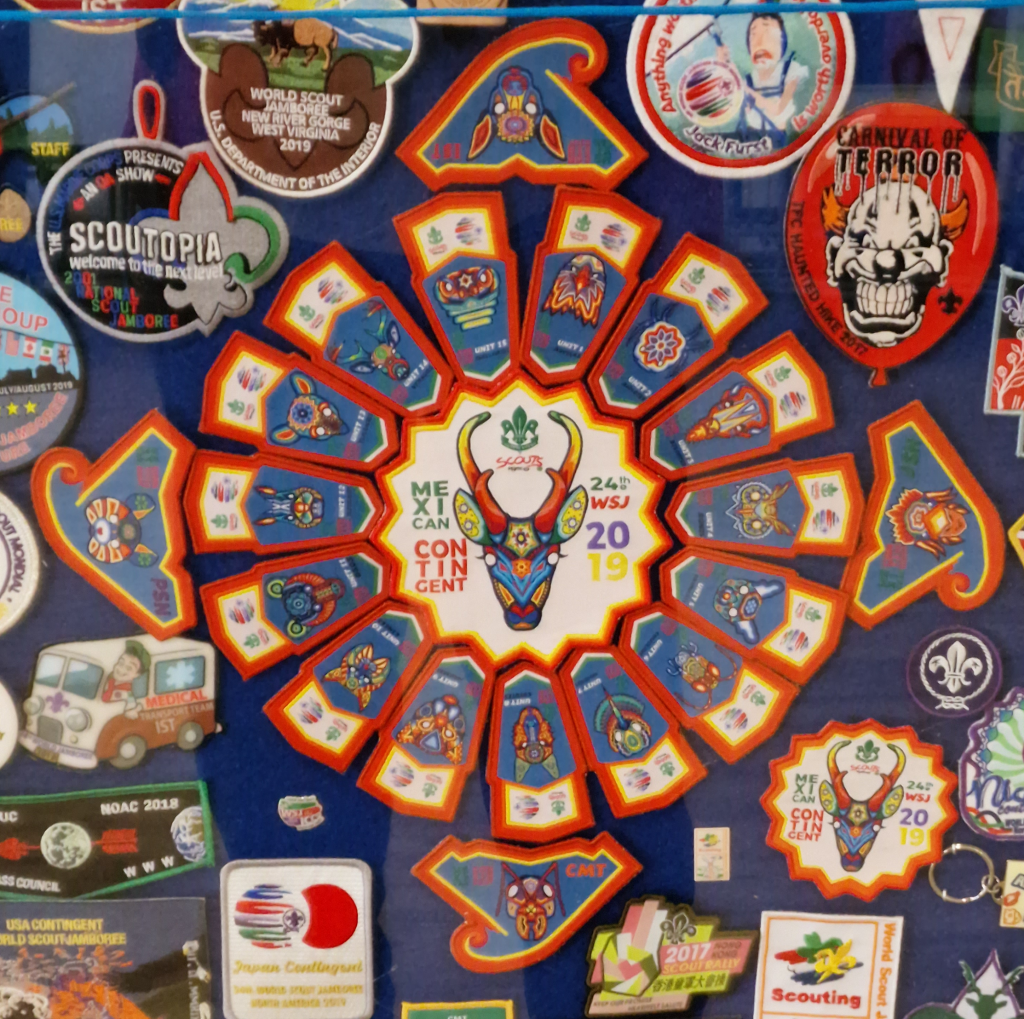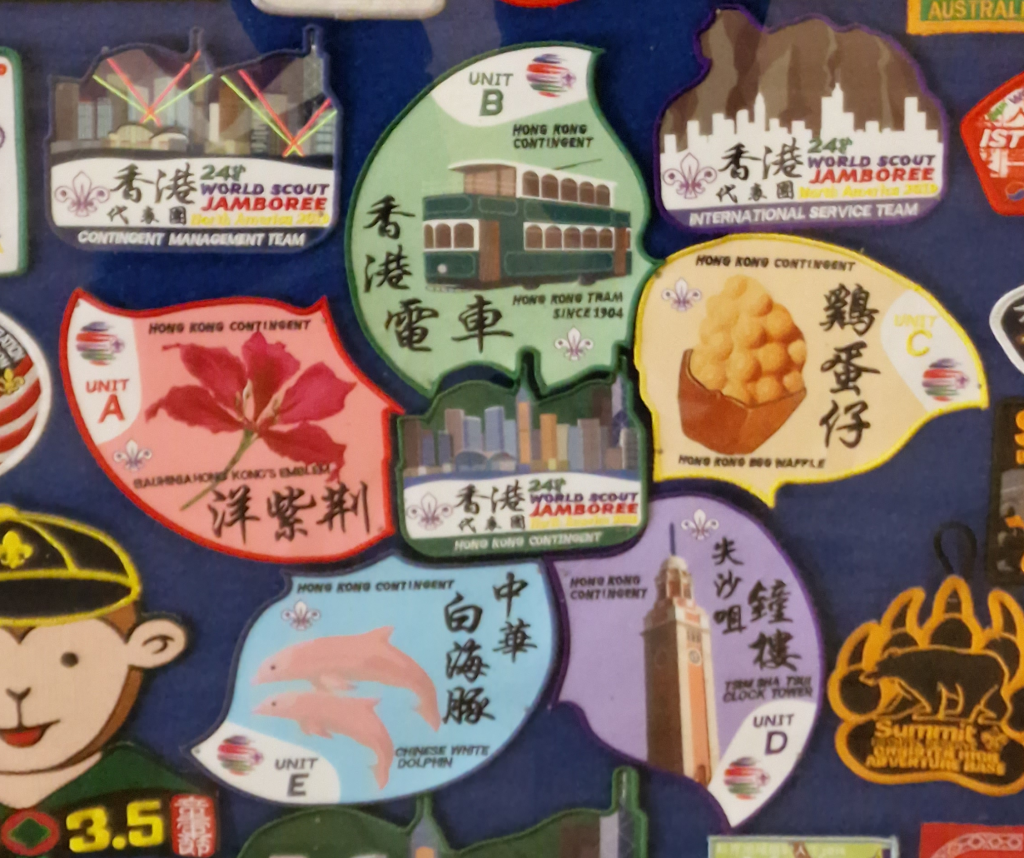 Want to trade a uniform? Make sure to bring a second uniform shirt with you. This is why you are usually given two of each badge (2 UK contingent uniform badges), so you can use your existing uniform and your new included short-sleeved uniform. Make sure they are the same with the same badges on, as you will need to keep one for traveling in and ceremonies. It can be useful to keep your cleaner one for getting home in!
Remember, selling or buying badges at the Jamboree outside of the onsite shops is not allowed! (only swapping).
What can I trade for what?
Typically you will trade a badge for a badge, a scarf for a scarf, a t-shirt for a t-shirt, etc. Some things to note though, you may be interested in a larger badge/patch, or a special edition patch that someone has, in these instances, you will usually need to trade an equally sized badge or equally valuable badge, but you can sometimes trade multiple badges for one badge (such as 4 smaller badges that make up the same size as a larger one). Make sure you are happy with the trade you are doing, and that you aren't getting taken advantage of (including making sure you're not taking advantage of anyone else).
It is a Jamboree rule that Adults should only trade with Adults, and Young People only trade with Young People. This is to avoid any instances of anyone getting taken advantage of across the age gap between adults and young people. Units will usually be surrounded by lots of other young people so trading should be easy, with any difficulty usually for unit leaders.
Where do I trade?
Almost anywhere on the Jamboree site! You may meet people in queues, on the bus, during ceremonies, or just on your travels! (perhaps even in Seoul). We believe from the IST job catalog that this jamboree that there will be trading tents/cafes where you can go to trade with other people, but historically people have set up along paths, in open spaces, at cafes, on a rock… almost anywhere. You usually find when a few people sit down and set up to start trading, that it eventually grows until there are a whole bunch of people sitting and trading.
Trading in large areas is usually a bit like a boot fair. You either walk around and look at what other people have laid out, or you sit down and lay out your badges for other people to see and come up to make an offer to you. It can be helpful to be with a friend to be able to occasionally get up and check other "stalls" while your friend watches your stuff. A friend can also be useful to help you ensure you are getting a fair trade, and help watch each other's things.
Someone just gave me a badge?
Sometimes people may just give you a badge for free, as a thank you, or as an item to remember them by. Be thankful, and if necessary think about reciprocating with one of your badges if you have made a new friend, or be honest and say you don't have anything in return. You may wish to give a badge to some friends you make without expecting anything in return, especially as thank yous if you were invited back to dinner (not usually expected though).
Eriks Previous Jamboree Swaps (for inspiration)